ENDOCRINOLOGY, EMERGENCY CARDIOLOGY AND DERMATOLOGY medication
Meladinine is a photosensitiser. The active ingredient is methoxsalen. It is used in phototherapy and puvatherapy. This drug is administered during the systemic treatment of skin diseases (in particular psoriasis), by local treatment of lesions or by balneotherapy (immersion in a bath). This product is marketed in 3 forms, in France and internationally (Thailand, Bangladesh, Hong Kong…)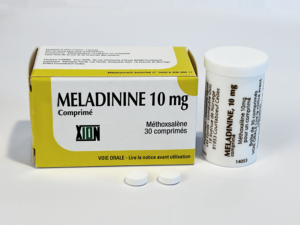 24mL bottle, 0,75% solution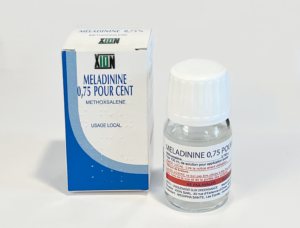 24mL bottle, 0,75% solution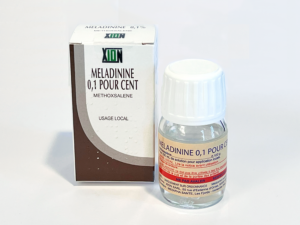 Propranolol is a beta-blocker. The active ingredient is propanolol hydrochloride. It is an emergency drug used in various forms of sympathy-dependent tachycardias, or certain heart rhythm disorders.
Bottle of 5mg/5mL solution
Demeclocycline is an antidiuretic hormone antagonist indicated for the hypersecretion of antidiuretic hormone. Antidiuretic hormone (ADH) controls kidney water excretion. It can be blocked by an excess of ADH and thus generate a syndrome of Inappropriate Antidiuretic Hormone Secretion (SIADH). The active substance is demeclocycline, a from tetracycline family.
Bottle of 5mg/mL solution